Open enrollment begins November 1, 2017 for an effective date of January 1, 2018!
What is Covered California and is it the same thing as "Obamacare?"
Under the federal Patient Protection and Affordable Care Act, Covered California has been created to utilize as a "marketplace" where individuals, families, and businesses can compare health insurance options, apply for coverage, and enroll in a plan all in one place. Through this "marketplace," you can shop for health insurance and discover if you are eligible for premium assistance to help pay for health insurance.
The term "Obamacare" refers to features of the federal Patient Protection and Affordable Care Act; one of them being the new marketplace in the state of California known as "Covered California." Also note that the terms "marketplace" and "on-exchange" are interchangeably used to describe the kind of health insurance a person has when they have received financial assistance to help pay for monthly premiums. When someone enrolls in a plan directly with an insurance carrier and doesn't receive financial assistance, they are enrolling in a plan "off of the exchange."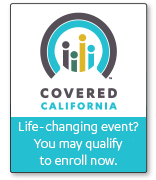 What determines the price of health insurance plans?
Your zip code, age, household size, and income.
What if I have a pre-existing health condition?
That doesn't matter anymore. Insurance carriers MUST offer health coverage to individuals regardless of any pre-existing health conditions. It is now part of the law.
What kind of financial assistance is offered?
Premium assistance:
This is offered to reduce health insurance costs for individuals and families who have certain incomes and DO NOT have health insurance from an employer or government program. When applying for health coverage through Covered CA and seeking financial assistance, the assistance you qualify for will automatically be applied to show the different premiums for all of the insurance plans that are offered to you.
Cost-sharing subsidies:
These lower the total of out-of-pocket expenses for health care that an individual or family has to pay. (Example: copayments)
Medi-Cal assistance:
A program covering health care expenses for individuals under the age of 65 with an income of less than $16,394. This coverage is free for those who qualify.
What is Medi-Cal?
Medi-Cal is California's "Medicaid" program. It is free health care coverage for those who qualify and when applying through Covered California with the intentions of being subsidized, eligibility for Medi-Cal is automatically determined. For example: individuals making $16,395 or less per year and families of four with an income of $33,534 or less per year, Medi-Cal coverage is offered.
How do I determine if I can receive financial assistance?
Certain requirements need to be met in order to receive premium assistance or cost-sharing subsidies. Eligibility for financial assistance is based on the Federal Poverty Level (FPL), which examines the number of family members applying for coverage and the income for that family. For example, an individual making less than $47,520 and a family of four with an income of $97,200 or less may qualify for a subsidy for health insurance. Proof of income is also required by submitting forms such as the first page of your tax return.
Can I qualify for a subsidy and my children qualify for Medi-Cal?
Yes, this is a possibility and we see it happen often. For example, sometimes both parents can receive tax credits for their health coverage through Covered California while their children qualify for Medi-Cal. This is due to the rules for children's Medi-Cal eligibility being different than adults' to ensure children receive affordable health care coverage.
*Please see the end of this page for a chart showing an estimate of what individuals/families may qualify for based on income*
If I qualify for Medi-Cal, do I have to enroll in Medi-Cal or can I enroll in a Covered California insurance plan to receive premium assistance?
According to federal law, you are not able to obtain subsidized medical insurance through Covered California if you qualify for Medi-Cal. However, you can purchase unsubsidized health coverage if you do qualify for Medi-Cal. Bottom line is, you can still obtain a health insurance plan through Covered California but you will not qualify for financial assistance since you are eligible for Medi-Cal.
Can I just enroll in a plan without having to submit any type of personal income information?
Absolutely. You can apply for coverage through the Covered California website whether you are seeking financial assistance or not. If doing so, please contact us so we can become your agent and help you through the process so you don't need to hassle with the application process. However, if you do prefer to obtain health insurance without financial assistance, we highly recommend going through our website (www.medical-ins.com) and enrolling directly through an insurance carrier's website in order to avoid the lengthy application process through Covered California. To do this, simply click on "Enroll Directly" on the homepage and some simple steps can be taken in order to enroll. Doing this allows me, Jerry Wetzstein, to become your insurance agent which is free of charge to you.
Do I have to pay a penalty if I don't have health insurance?
Yes, tax penalties will occur for individuals who decide to not obtain health insurance. The federal law determines these penalties and in turn, the Internal Revenue Service (IRS) will collect them as part of the tax filing process. For small businesses (less than 50 full-time employees), there will be no penalties. However, starting in 2015, if large businesses do not offer affordable health insurance to their employees, they may have penalties imposed upon them.
Individual/Family penalties at a glance:
$695 per adult, $347.50 per child (maximum of $2,085 for a family or 2.5% of family income, whichever is greater)
Click here to use the tax penalty calculator
You are excused from paying penalties if you:
Pay more than 8% of your income for health insurance
Have an income below the threshold for filing taxes (2013= $9,750 for a single person and $27,100 for a family of four)
Qualify for religious exemptions
Are an undocumented immigrant
Are incarcerated
Are a member of federally recognized American Indian tribe
Are an Alaskan Native
Can I enroll in a Covered CA plan outside of the enrollment period?
Yes, but only if you have a "qualifying event." These include events such as marriage, having a baby, moving outside of your current health plan's coverage area, change in income, or losing insurance through your employer. If any of these apply to you, let us know within 60 days of the "event" and we can assist you with getting coverage.
Can I enroll in Medi-Cal at any time?
Yes, Medi-Cal applications are accepted year-round. If you qualify for Medi-Cal, we can enroll you at any time throughout the year.
What if my income changes?
If there is a change in your income over the year, your financial assistance will be adjusted accordingly. If your income increases, the difference will need to be paid during tax time. If you are covered under Medi-Cal and your income exceeds $16,394 for an individual or $33,534 for a family of four, you would no longer qualify for Medi-Cal coverage and would be eligible for a health insurance plan through Covered California.
If Medi-Cal coverage gets cancelled due to an increase an income, how does a person continue having health insurance?
Losing coverage in a situation like this is considered a qualifying event, which allows that individual to have a special enrollment period and enroll in a Covered CA individual health plan.
What if my income is different than what I reported on my application?
If you reported your income as an amount that is lower than what you actually made for the year, you may have received more financial assistance than you needed and will have to repay that amount at tax time. If you report your income as higher than what it actually was, you may be entitled to a tax credit and will receive that amount at tax time. It is important to to report your income as accurately as possible in order to avoid making repayments and to receive the right amount of financial assistance.
Will any documents be necessary to enroll through Covered California?
Yes, but only if you are seeking financial assistance. Otherwise, you can enroll without any document submissions. Documents needed include: social security numbers, proof of California residency (e.g. ID, driver's license, passport, birth certificate), and proof of income (e.g.tax return, pay stubs, bank statements).
What if I am a naturalized citizen and was not born in the U.S.?
If you are a naturalized citizen, documentation is necessary in order to move forward in the application process. Your naturalization certificate would need to be submitted and/or your green card.
Can dental and vision plans be purchased through Covered California?
Yes, dental plans are now available for purchase through Covered California. Vision options are not yet there, but we do have access to quoting you for vision plan options elsewhere so please ask us about that!
To select Jerry Wetzstein to be your Covered California Representative, follow the directions on our Individuals and Family Quote page.
People in Household
Income Less Than…
Income Between…
1
$16,395
$16,396 – $47,520
2
$22,107
$22,108 – $64,080
3
$27,820
$27,821 – $80,640
4
$33,534
$33,535 – $97,200
5
$39,247
$39,248 – $113,760
You may qualify for:
Medi-Cal
Premium Assistance
through
Covered California